Deliver Us From Evil (DUFE)
Director's Cut (Surprised Pikachu)
---
HOW DUFE CAME TO BE:

In case you're wondering, I'm Crysil, the Director and Lead Artist for DUFE.
Deliver Us From Evil is a gothic mystery otome with a complex and enthralling cast, but it wasn't always that way.
After releasing Snow Angel for NanoRenO back in April I was tired and wanted to take a break but Otome Jam was just too good to not participate in. A game where you had to date hot guys? Right up my alley. I had a pretty vague idea, all things considered, and pitched it not expecting much. 'It would be easy and simple ' I thought. Two love interests, one light one dark like the anime DNAngel with the same setting as our previous VN Snow Angel. I had a team of five and we all worked well together so I was sure we could make something short and mellow for Otome Jam too.
Please laugh now.
Somehow more and more people joined the project starting with our VAs Brad and Ryan and in May I was leading a team of over 15 people for a voiced, ambitious 45k+ words VN.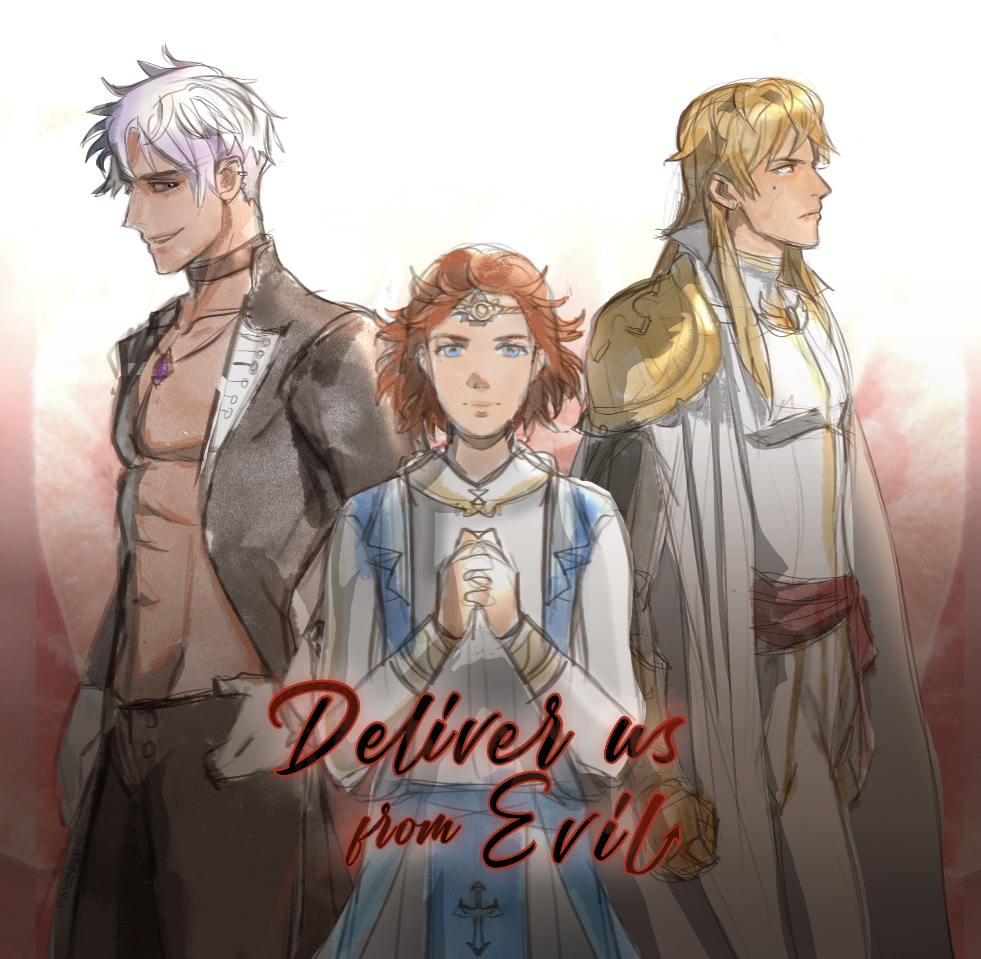 (The original cover)
A BEAUTIFUL SURPRISED PIKACHU EXPERIENCE:
Despite the stress of leading so many people and making sure all the deadlines were met - we had one very terrible period where we were EPICALLY behind and one not so terrible period just recently - I wouldn't trade this experience for the world. The project had blown out of proportions, but the team had grown to match them. I had the pleasure to recruit SO many amazing and talented people to bring this game to life. Seriously. I'm beyond awed by the crazy experience we went through and I love each and every member of my team:
Rico - 🐔 I swear we share the same brain. Rico was a joy to get to know and their writing is incredibly witty and cheeky. Try out the common route and then the Michael endings to see just what they're capable of, I'm sure you'll leave with a smile. They also helped immensely with world-building, plotting and picking up the slack whenever there was some. I swear DUFE would not be DUFE without them.
Liv 💕- I love Liv, she's such a nice person and her writing is very moving and gripping. No one else could write Ace like she did and when you fall in love with our sexy man (trust me it's when not if) remember she was the one who brought him to life. If you need passion and momentum, Ace route is for you. Also if you like the title, you can thank Liv for it, she came up with it.
Crystal 🌸- We had a bit of a false start due to issues with deadlines but Crystal is a nice and thoughtful person. She has quite a heartwarming touch and brings you the authentic japanese blushy-boy experience with our Archangel Michael who, despite being a lauded general, has little to no experience in love. If you love to tease then play the Michael route!
Edpin 🎶- Edpin has been with me since Snow Angel and he has never failed to impress. His music is beautiful and it will make you feel things, move you and bring tears from your eyes. It's thanks to him and him alone that DUFE is able to have such a powerful original score to accompany it. Can't give this guy enough credit and he's also a hella nice guy and has been incredibly dedicated to the project.
Ayael 👑- Ayael is a wonderful programmer and incredibly smart. She also seems to have the exact same tastes as I do so we worked really well together. She has her own project Imperial Grace (which you need to check out btw) and she brought on lots of knowledge to the team, fixing all the more complex programming problems. It's thanks to her we have such smooth UI and working lip animation!
Rowanty 🦁- Rowanty was an absolute HERO on our team, without him we would not have been able to release on time, perhaps not even at all. He took on the lion's share of the scripting and he has some MAJOR talent. Thanks to him DUFE feels almost like an interactive movie. His enthusiasm is contagious and I absolutely loved having him on the team.
FallRight 👩‍💻 - FallRight came in saying she wanted an assistant scripter role and in that role she has performed marvelously. We had some clashes mainly due to myself not having the time to give her complete guidance when the needs of the game required her to do more work than she had signed up for. Thankfully everything resolved itself and we had smooth sailing afterwards :)
Jane 💖- Jane is so nice. I love Jane. She has been a great emotional support during difficult periods of the project and has consistently been enthusiastic and encouraging. She met all the deadlines without complaint as they got crazier and crazier and helped edit and polish our script into the beautiful thing it is now.
Leporine 💜- Leporine is a sweetheart. Like Jane she didn't complain about all the crazy deadlines and soldiered on, getting our chapters edited incredibly well. She also formatted each chapter, helping the scripters immensely and saving a lot of time. She has tons of great ideas and I'm really excited to see what VNs she will make in the future.
Foleso 🖤- Foleso is really talented. They did the UI for DUFE and it was their gothic styled border at the very start that pushed me fully in that direction. I was initially going for something with a lighter aesthetic but Foleso's UI set the tone and I haven't looked back since. It was also their prompt that caused Michael to have a croptop outfit.

Ashe - 🐙 Ashe Is Amazing. They handled everything VA related and I did not even have to raise a finger. They were so good at their job that I had no idea what they were doing until I asked them. We also have them to thank for mixing all the voice files and getting them to us and directing all the VAs. They're a very cool person.
Ryan 🔥- I. LOVE.THIS.GUY. Like Rico DUFE wouldn't be DUFE without him. His simping for all our characters has rocket-launched development and I was thriving off of it while drawing character sprites and using it as motivation. THANK HIM for all the shirtless shots you'll be sure to see. He's also impacted out storyline with a very very lovely fanfic that may be part of any future DUFE work or DLC.
Brad 🤜 - Brad is great and very funny. I absolutely love his voice work anytime he gets some in and his chicken squawk and attacking shouts take the cake. I couldn't ask for a better Michael, he manages to cover both the dorky protective side and the badass commanding side of our Archangel.
Alex ✨- Alex is a lovely guy and has one of the most soothing voices I ever heard. He can read books to me anytime. In his role as Keldran's VA he's absolute perfection and he manages to capture Keldran's eloquent behaviour in a very fascinating way.
Katy ⭐- Katy is a very experienced individual with many VNs under her belt. We found her knowledge invaluable when designing the character choices per route. She also designed a flowchart for us which helped the scripters keep track of what happened when.
TOWARDS THE FUTURE: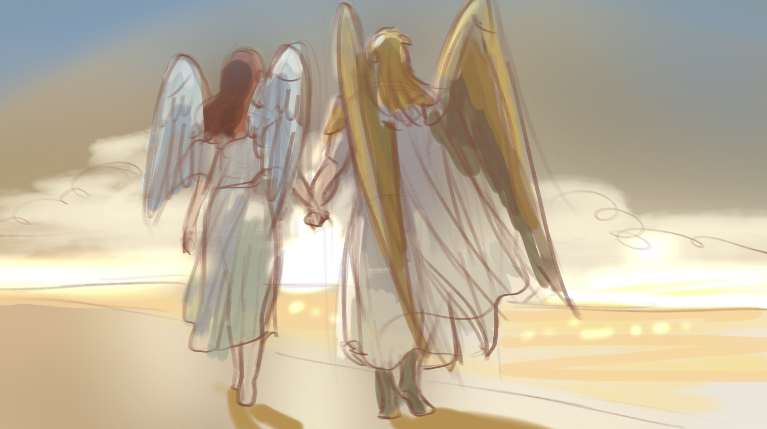 Michael, Ariel, Ace and Keldran will continue living in all our hearts and we hope you will love them as much as we do. DUFE has grown on all of us and we would still love to expand upon the universe we created. We already have a lot of ideas and a team so if you like the game please support us by donating when the game comes out in 3 days so we can bring you a DLC ❤️
-Lord Crysil (Surprised Pikachu Director)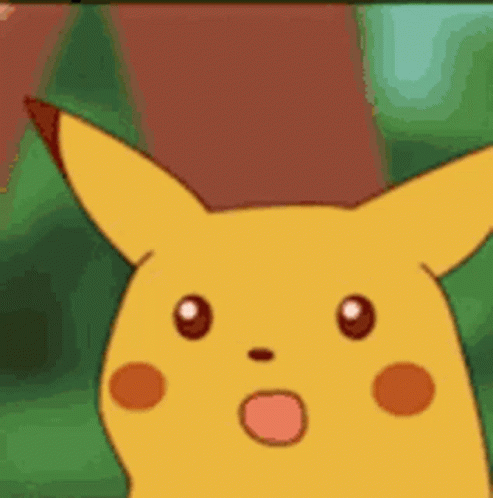 Get Deliver Us From Evil (DUFE)